Welcome to the new year 🎉!
While you're avoiding your overwhelming inbox, here are a few absolutely completely accurate predictions of what's going to happen this year in healthcare marketing. Just kidding of course on the accuracy part – no one can predict the future, but here are a few of my observations of trends over the past few months that I expect to intensify or shift in 2023.
My 2023 healthcare marketing predictions:
The battle for patients is going to heat up – In the past few years we've seen an increase in the number of organizations actively marketing to acquire patients and with increased disruption (more on that in a second), COVID-19 becoming less of a consideration, and a looming recession, I believe the battle for patients in the online space is going to heat up.
A lot more disruption – The healthcare industry as a whole is going to continue to see disruption as innovative outside thinkers look for new ways to enter the market. Most of this will end up being really good for people as they get more options in their healthcare journey. It also means there will be more companies vying to help providers reach potential patients. Some of these tools will turn out to be amazing, and some won't see July. If you don't believe me, just look at the google search ads for zocdoc and how Patientpop and Nexhealth are all competing: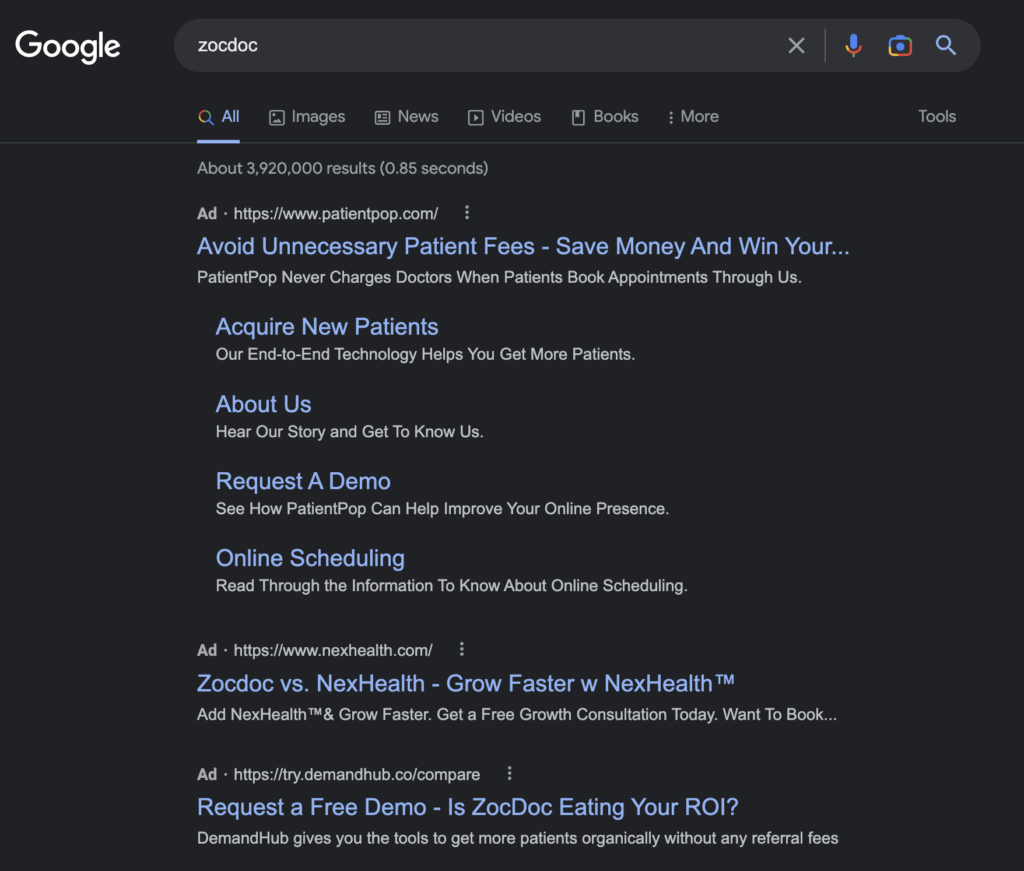 Old technology is going to catch up to some organizations – Hopefully you were lucky enough to not be one of the thousands of people caught in an airport due to Southwest Airline's recent failures. If you were, this one may sting a bit. I believe in 2023 there will be organizations who get caught using outdated tech and have real issues because of it. It looks like Southwest had chosen not to invest in overhauling their outdated technology for years and that was what made this holiday season a catastrophe for them. There's been a lot to focus on over the past few years, my hope for our industry is that we don't ignore core technology for too long.
Healthcare consumerism is going to continue to become the norm – Disruption has a way of changing the expectations for everyone. Remember what it was like before Amazon offered free 2-day shipping on everything? Now ask yourself what you think when a website charges $15 for shipping and it takes 2 weeks. More organizations are figuring out how to make their services more convenient for people – telehealth, easy scheduling, text reminders, etc. are all here to stay. I think there's a good chance that this year will see the gap widen between the organizations making it easy for people and the ones who aren't.
Hopefully, a break for burned out healthcare workers – I'm a marketer, not a doctor. But my prayer is that 2023 sees the cooling off of a crazy few years for all my friends who work as health providers. Everyone is burned out and desperately needs a break and I hope they get it.
Brands are going to find new and creative ways to advertise digitally – Ok maybe this is a bit self serving as someone in the digital advertising world for healthcare clients, but I really think we're going to see some movements here this year. We're now on the downward side of the bell curve for Facebook as the leading digital ad tool and I don't think Google ads will work forever the way they are right now – especially with more competition incoming. The bold brands are going to get creative with newer channels like TikTok, streaming TV, or other programmatic platforms. And while it won't work every time, I think that boldness is going to pay off.
Text messages are the new email – Every few years us marketers write about how this will surely be the year that email marketing dies off and every year it proves us wrong. I'm not writing off email marketing but I do wonder if healthcare may be one of the few fields where consumers are more comfortable with SMS communication and we see a shift there.
An influx of technology talent to the field – We are at an interesting point in our economic cycle with the current(?) recession, tech sector struggling mightily, and healthcare innovation. My wonderment is if we'll see some of the talent – especially from the beleaguered technology sector – move over to healthcare.
Alright, that's it, those are the predictions. Please feel free to bookmark this page to come back in December and remind me how wrong I was.